Beyonce's improv skills are on point! During a recent concert at London's O2 Arena, the superstar received a surprise fan gift and made a joke about it mid-performance.
MUST READ: INSTADAILY: Beyonce's Life Flashes Before Our Eyes & We're Like D*mn
Here's how it all went down: Bey walked through the crowd while belting out lyrics to her new track "XO," and to her surprise, an audience member got too excited and threw their wig in her path! Of course, Mrs. Carter didn't miss a beat. She stepped around the head-piece and sang, "You got me snatching wigs, snatching wigs."
We can't help but to laugh at her sense of humor. As you know, Queen Bey is currently on the European leg of her Mrs. Carter World Tour, which has been revamped with new costumes, choreography and songs from her new platinum-selling self-titled album.
MUST READ: ENTER TO WIN A TRIP TO THE BET EXPERIENCE!
Check out the funny clip and Bey's full reaction below.
RELATED STORIES
Beyonce Chucks The Deuces To Another Manager, Takes Full Control Of Her Career With Hubby Jay Z
Beyonce's Lead Dancer Reveals Why Bey Cut Off Her Hair [EXCLUSIVE]
Check Out This Gallery Of Bey's Best Moments:
Crowning Glory: King Bey's 52 Best Hair Moves
1. Beyonce's Hair Has A Mind All Its Own
Source:
1 of 10
2. Do Not Try This At Home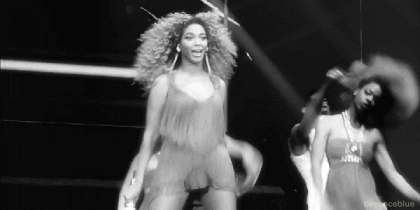 Source:
2 of 10
3. Beyonce's Hair Works It, Even When She Hulahoops
Source:
3 of 10
4. It's Contagious
Source:
4 of 10
5. Golden Girl
Source:
5 of 10
6. About That One Pesky Curl...
Source:
6 of 10
7. Even Beyonce's Hair Gets Excited
Source:
7 of 10
8. I Can't Stop Watching Bey Stroke Her Hair
Source:
8 of 10
9. The Ponytail Toss
Source:
9 of 10
10. Her Curls Breathe
Source:
10 of 10
Beyoncé Is Snatchin' Wigs! Fan Throws Hair Piece During Concert & Queen Bey Sings About It was originally published on hellobeautiful.com